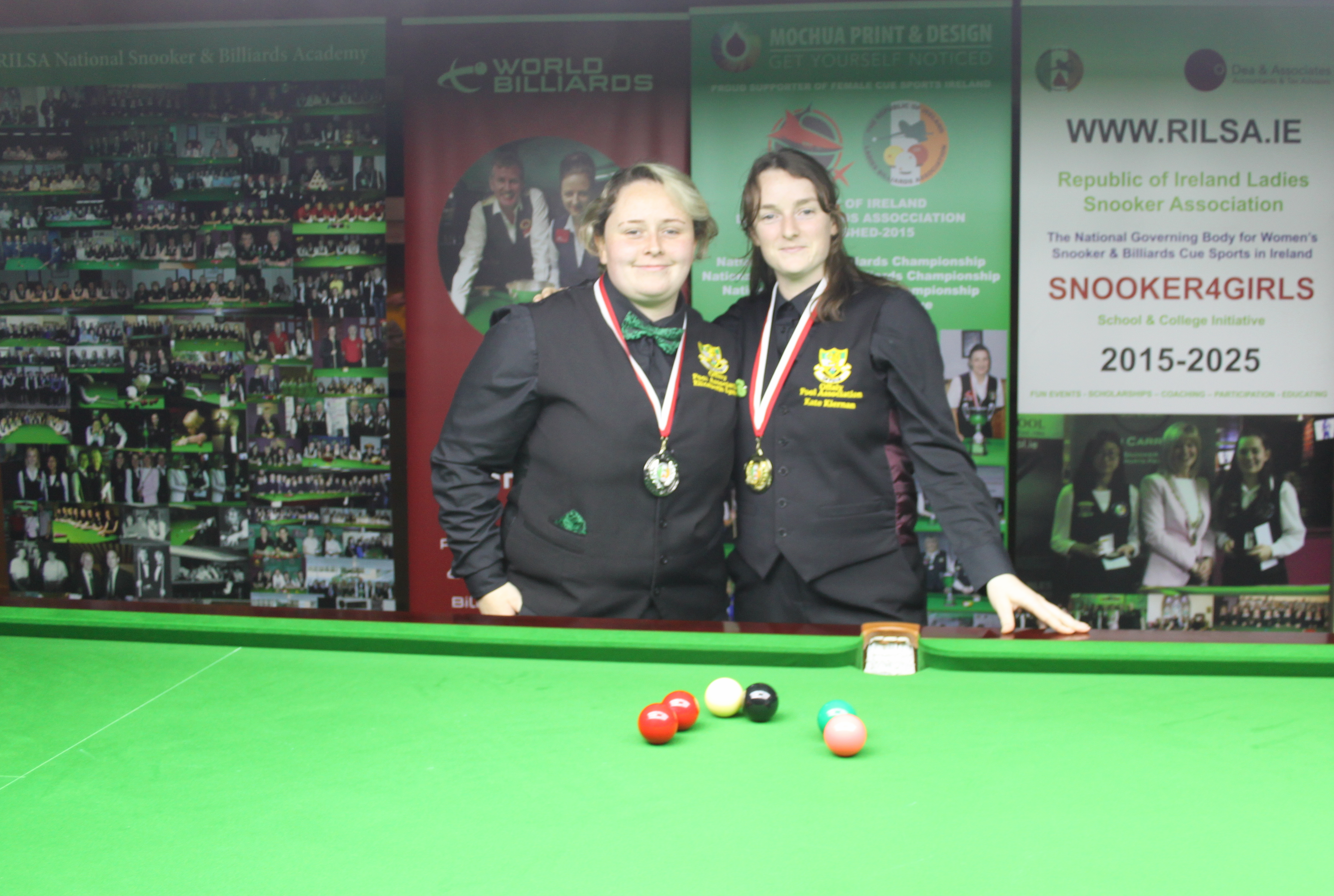 Katie Kiernan from Louth won her first ever National Intermediate Snooker Ranking event at the RILSA Academy Sharkx Newbridge recently.  This was her first Snooker Competition with RILSA, she excelled on the day to take her maiden title, so one to watch out for on tour
In the Quarters, Tina Keogh from Offaly won her match against Joanna Ward from Kildare to advance, Elizabeth Lynch from Offaly had a close match against Christine Carr from Kildare to take the win to meet Tina in the semis
At the other end of the draw, Katie Kiernan from Louth went through to the semis as a bye while Louise Maher from Kilkenny took on Grushenka Arnold from Dublin in another close match to take the win and meet Katie in the semis
Elizabeth was in good form against Tina all the way keeping close and eventually took the pink ball in the frame needed for a place in the final.  Katie had to play well against Louise who has already won three events this season showing great consistency but Katie held her focus to pot the black to take the frame and meet Elizabeth in the final.
Again the final went all the way to a pink ball with Katie potting it to take the win against Elizabeth.  We are delighted for Katie on her success in her inaugural event with RILSA.
Congratulations to Katie on her win and well done to Elizabeth on a fine performance.  Thanks to all the girls for their participation and support.  Thanks to Bernie, Paul and Leon for all their help towards female cue sports.
On the National Intermediate Snooker Rankings Christine Carr is in poll position and is hoping to take the number 1 spot for the 3rd time, Joanna Ward holds number 2 spot  and is very capable of taking the number 1 for the first time as the season progresses, she is closely followed by Grushenka Arnold in 3rd place, her highest National Ranking since she joined RILSA last season.  Elizabeth Lynch is 4th spot and is her highest Intermediate National Ranking since she joined RILSA, so changes at the top but can Stephanie Foley from Carlow regain her number 1 spot she held for the past two seasons as she sits in 5th place and another contender in the mix is Tina Keogh from Offaly who was number 1 in 2016 and is placed 6th at the moment, so with 3 remaining rankings, anything can happen, lets wait and see how it unfolds as we continue our events.
Katie Kiernan is provisionally number 13 on the rankings after she took the win in her first event and she certainly can make the top 8 if she keeps up this form for the rest of the season.